Aren't they so dang CUTE?! I would like to introduce you to my sweet family! There are five of us! RyAnne, my doll! She is about to be eight years old and that completely sends me into shock! How in the world did the time pass so quickly?! Olivia, my cute little comedian! She is almost four. That girl keeps us laughing! Rocco, the smiley guy! He is seven months old and keeps us awake at night! lol AND last but not least, my high school sweet heart, Trey. When I was about eleven years old, I drew a picture of my "dream man" and thumb tacked it to my peg board. The only difference from what I had drawn and the man I married, is his hair color!
To learn about how I got started as a wedding photographer scroll down to read my "Purpose"!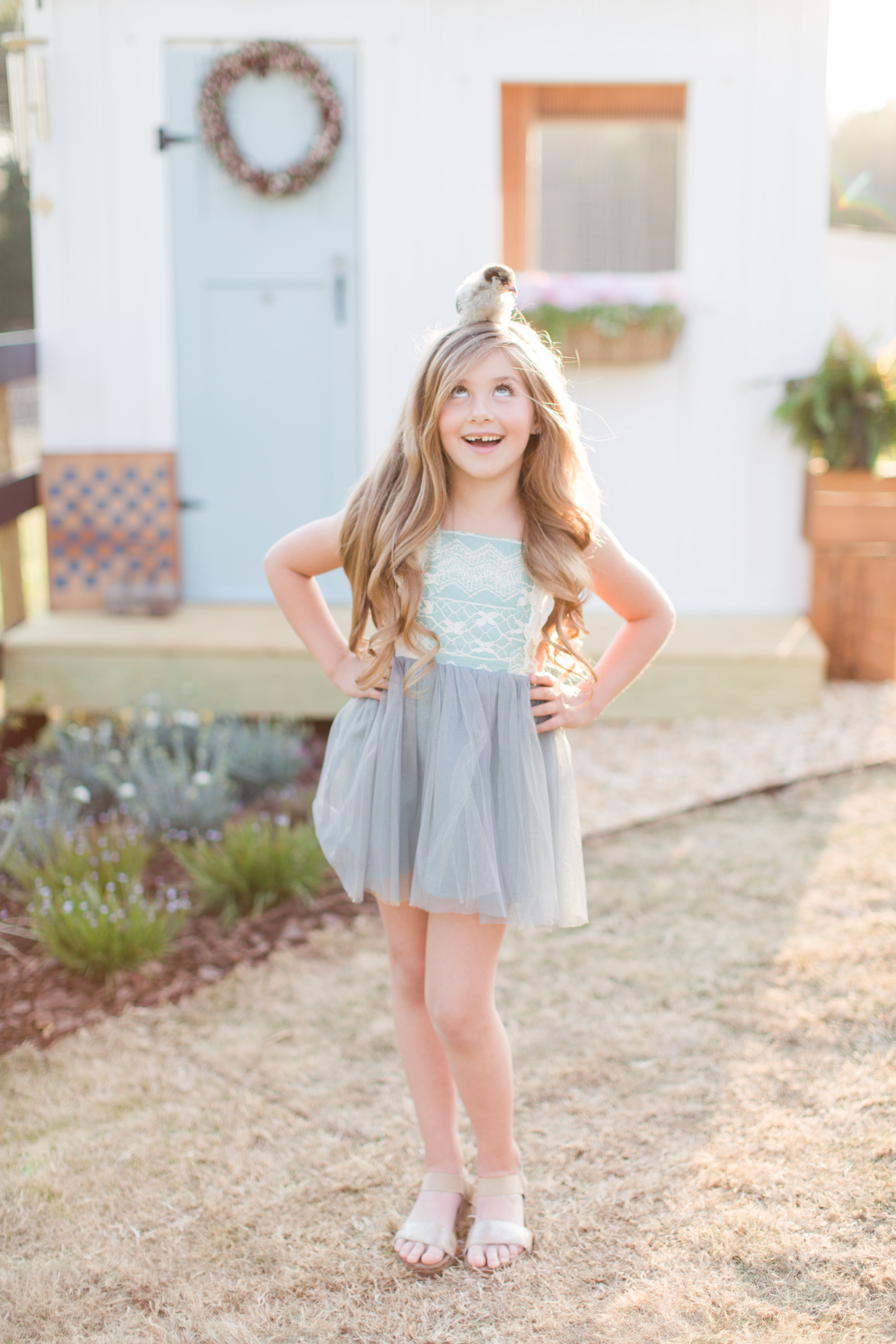 In February 2017, our family welcomed seven chickens and five Dwarf Nigerian goats to our little piece of this earth. Our farm babies bring us so much joy! We love going out to the chicken coop to look for eggs and walking around the pasture with our goats. Watching them jump over the creek and on the big rocks is our stress relief! Plus, seeing our girls learn about and enjoy our sweet babies makes us so happy!
For Christmas, when I was ten years old, I received a 35mm film camera from my Aunt Holly & Uncle Steve. It was one of the best gifts I've ever received! At that super young age of ten it sparked a creative fire in me! I went through numerous rolls of film - mostly black and white - That was my fave! I look back on those old photographs of cows, ducks and pastures and see what God was doing! He was showing me my God given talent! However, I had NO idea!
I went on to college, and while I really wanted to become an interior designer, I chose dental hygiene! What!? I know, it's a crazy path I've been on to get back to this passion of mine! I quickly realized dental hygiene wasn't for me and went to school to become a massage therapist. My practice lasted for over six years and I had the most incredible clientele! During that time I also worked really hard and got my real estate license and became a Realtor with the East Metro Board of Realtors. AND that same year, my husband and I, opened our business, AllStar Alarms & Sound. It was quite the busy year for us and I learned SO much!
In 2010, we welcomed our first baby, RyAnne! She changed my world in so many ways! When she was about three months old I was diagnosed with postpartum depression. This diagnosis took the wind right out of my sails! I knew I wasn't feeling like myself but I thought, "I just had a baby that never sleeps! I need to rest, get some exercise and take better vitamins!" Rest probably would have been the cure-all but she wasn't sleeping! lol My doctor offered me anti-depressants but considering I was nursing RyAnne I was scared to take them. I know they say they are safe while breast feeding but I just didn't want to go that route.
In December of 2010, when RyAnne was eight months old, Trey gave me an early Christmas gift. He surprised me with my very first DSLR camera!!! This was everything to me! At that time, we could barely afford it but he knew how happy it would make me! I couldn't believe how lucky I was! The very next day, I put the cutest Christmas outfit on RyAnne and did my very first photoshoot with her. She was so dang cute!!!
The pictures on the other hand. . .let's just say my photography skills have improved by leaps and bounds since then! But I cherish those photographs! It was in that moment of photographing my sweet girl that my
passion was sparked once again and my depression sailed right on out the door!